Cuban Sandwich (Medianoche)
One of the most popular Cuban dishes is the Cuban Sandwich and the Media Noche. These sandwiches are delicious and very easy to make at home.
Traditionally, the Cuban sandwich recipe consist of:
3 thin slices Morrison Bolo Ham
3 thin slices Morrison Cooked Pork
3 thin slices of baby Swiss cheese
Cuban bread Loaf
Mustard
sliced pickles
Butter for spreading on bread
Slice bread in half lengthwise and lightly spread butter on outside of loaf.
Place slices of the ham, cooked pork and cheese on the inside and top off with a little mustard and a few sliced pickles. Close sandwich and place on a hot sandwich press. A Panini grill may also be used if you don't mind the grill marks. Cook until the cheese melts and sandwich is warm inside. The outside crust of the sandwich should be toasty and the inside warm and juicy.
The Media Noche differs with the type of bread. Usually made with a softer , sweeter bread like an egg loaf.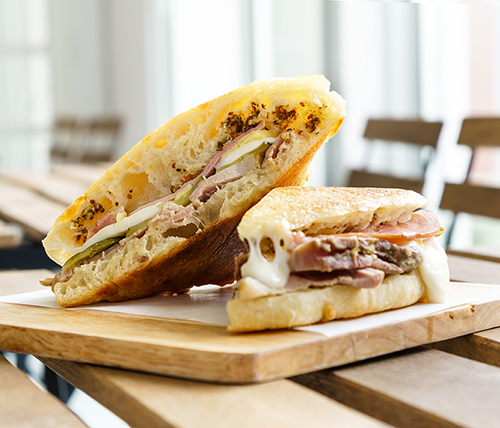 location
738 NW 72 ST.
Miami, FL 33150
Open Hours
M-F: 9am – 5pm