Ingredients:
1 lb pack Roman Brand Pepper & Onions Sausage
1 White Onion
2 Cloves Garlic
½ Cup of Vodka
½ Cup Heavy Cream
1 30 oz Jar of Simple Tomato Sauce
Crushed Hot Red Pepper
½ cup grated Parmigiano-Reggiano Cheese
Cooking with alcohol is a common practice in Italy that allowed additional flavors to form within the sauce. However, wine was usually the alcohol of choice and vodka was never utilized until the 1980's in America where it quickly became a popular dish.
Using a large skillet lightly cover the surface in olive oil and place the skillet over medium heat. As the olive oil begins to heat up dice the onion and garlic cloves with a sharp knife. When the olive oil begins to slightly simmer add the onions and garlic for approximately 5-6 minutes under medium to low heat until they become translucent. Sprinkle lightly with salt and pepper for taste.
Take the Roman Brand Peppers & Onions sausages and add them to the skillet under medium to high heat. Cook the sausages evenly on all sides for approximately 6 minutes or until browned. Next remove sausages from heat and cut evenly to create circular cuts of sausage about ½ inches wide. Return to heat and continue to cook for another 6 minutes or until interior of sausages are no longer pink.
Now add the tomato sauce to the skillet and generously sprinkle with the crushed hot red peppers according to your desired spice level. Once the sauce has reached a simmer under high heat add the 1-cup of vodka let simmer under low heat for about 20 minutes or until reduced by 1/4. Next Stir the heavy cream into the vodka sauce and let heat through before stirring in the Parmigiano-Reggiano cheese.
Add a 1 lb pack of penne to the boiling pot of water and stir often to avoid sticking. Cook the pasta according to instructions until al dente a drain. Mix pasta with sauce from skillet and serve hot with additional Parmigiano-Reggiano cheese grated on top if desired. Serves 4-6 people.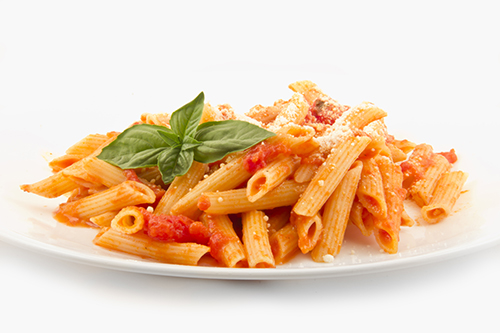 location
738 NW 72 ST.
Miami, FL 33150
Open Hours
M-F: 9am – 5pm