Ingredients:
1 pack Roman Brand Garlic & Cheese Sausage
1 White Onion
1 Clove of Garlic
¼ cup Butter
1 Can Sweet Peas
¼ Cup Heavy whipping Cream
Pecoriono Romano Cheese
1 lb pack Farfalle Pasta
Nutmeg
Salt & Pepper
Cream is not one of the more common ingredients in Italy particularly when it comes to pasta. In fact Alfredo sauce was popularized in America after tourist brought the recipe back from a small restaurateur in Rome. The Lombardy region is one of the few to regularly use cream and butter in their dishes. It is important to note that this sauce is not an overly thick alfredo sauce but instead a cream reduction more akin to the Lombardy region of Italy.
In a large pot bring 5 quarts of salted water to a boil. In a large skillet melt the butter over medium heat so that the surface is entirely coated. Using a sharp knife dice the onion and garlic then add to skillet when butter is simmering. Sprinkle salt & pepper on the onions in the skillet and cook on medium to low heat until onions are translucent approximately 5-6 minutes. Next mince the 1 lb pack of Roman Brand Italian Sausage in a food processor and add to the skillet. Sausage should be stirred evenly with onions and cooked on medium to high heat until golden brown approximately 10 minutes.
After sausage has been fully cooked add the ¼ cup of heavy whipping cream to the skillet and simmer sauce on low heat for approximately 15-20 minutes. While the sauce is simmering drain the liquid from the canned sweet peas and add the peas to the skillet while stirring to evenly distribute followed by adding ¼ a teaspoon of nutmeg. It is important to stir the sauce frequently in order to not allow the cream to coagulate. As the sauce is simmering feel free to add ¼ cup of Pecorino cheese for an even creamier taste.
Add a 1 lb pack of farfalle to the boiling pot of water and stir often to avoid sticking. Cook the pasta according to instructions until al dente a drain. Mix pasta with sauce from skillet and serve hot with pecorino cheese grated on top. Serves 4-6 people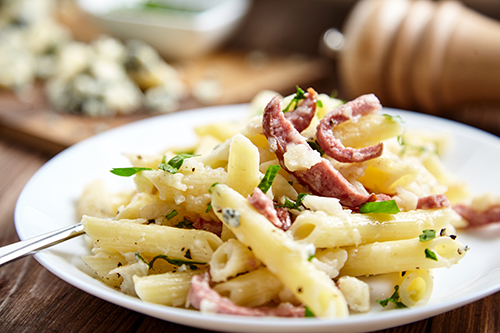 location
738 NW 72 ST.
Miami, FL 33150
Open Hours
M-F: 9am – 5pm