Spaghetti bolognese (umbria style)
Ingredients:
1 pack Roman Brand Hot Sausage
2 Stalks Celery
2 Large Carrots
1 White Onion
2 garlic cloves
1 25-30 oz jar of favorite tomato sauce
Parmigiano-Reggiano Cheese
Rosemary
1 pack Spaghetti
¼ cup Olive Oil
Salt & Pepper
The Umbria region is well known for its love of sausage and traditionally prepares meals by roasting olive oil with vegetables and herbs. This is a typical example of meaty ragu pasta from the area.
In a large pot bring 5 quarts of salted water to a boil. Using a large skillet lightly cover the surface in olive oil and place the skillet over medium heat. As the olive oil begins to heat up dice the onion, celery, carrots, and mince the garlic cloves with a sharp knife. When the olive oil begins to slightly simmer add the onions and cook for approximately 5-6 minutes under medium to low heat until they become translucent. Next add the celery, carrots, and garlic and continue to cook under medium heat for another 5-6 minutes. Sprinkle lightly with salt and pepper for taste.
As the carrots cook take the pack of Roman Brand Hot Italian Sausage (Mild is also available for less spice) and mince well in a food processor. When finished take the minced sausage and add to the skillet. Cook on a medium to high heat while stirring the sausage in the skillet to evenly distribute it amongst the other ingredients until sausage has browned approximately 10 minutes. As the sausage cooks tear off individual leaflets of 1 rosemary stalk and sprinkle generously into the skillet.
Once the sausage is cooked and browned add your favorite tomato sauce to the skillet and let simmer over medium heat for 10–15 minutes stirring occasionally. As the sauce is simmering add more leaflets from a second rosemary stalk and slowly stir in ¼ cup of Parmigiano-Reggiano cheese. It is of course preferable to make your own tomato sauce, however, due to the additional time and effort required this is a perfectly substitutable option that will still give your meal a true homemade Italian taste that will have your guests praising your culinary skills.
Add a 1 lb pack of spaghetti to the boiling pot of water and stir often to avoid sticking (if you are looking for a new and different taste try using wheat pasta instead of normal white). Cook the pasta according to instructions until al dente a drain. Empty pasta into a baking pan and cover with ragu from skillet. Mix pasta and sauce evenly in pan and cover surface generously with Parmigiano-Reggiano cheese. Place into an oven at 350 degrees and leave for 10 minutes or until cheese is fully melted. Serve hot feeds 4-6 people.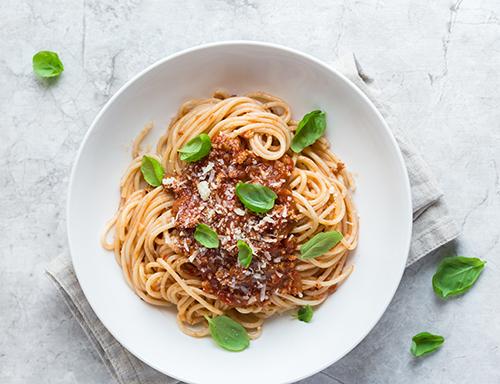 location
738 NW 72 ST.
Miami, FL 33150
Open Hours
M-F: 9am – 5pm